In January 2015, the City of Ontario engaged The Broadband Group (TBG) to assess, design, and financially model the operational structure and technical requirements for the city-wide "OntarioNet" broadband initiative.
TBG also provided guidance in developing a Commercial Technology Survey, used to evaluate the attitudes and perceptions of broadband service within the City. TBG has defined and detailed Conduit Specifications, as well as made recommendations regarding appropriate intra-city department structure and personnel requirements related to network management.
On September 17, 2016, the City of Ontario announced their high-speed Internet initiative – an undertaking which The Broadband Group is proud to be a part of, providing industry guidance and counsel.
LA Times: Where every new home comes with lightning-fast fiber-optic cable (Sept. 18, 2015)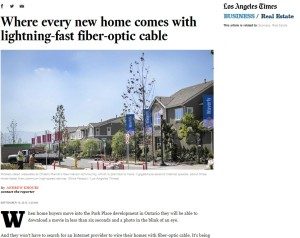 "Only about 175,000 U.S. customers have gigabit service, according to the market research
firm, RVA. And there are only about 10 new-home communities nationwide that have built-in gigabit services,"said Tom Reiman, president of The Broadband Group, a consulting firm that is helping Ontario roll out the supercharged Internet.